Tomorrowland
When you think of Belgian festivals, Tomorrowland is probably the first one that springs to mind. Launched in 2005 with just 9,000 people attending, it has grown into the world's biggest dance festival. Today more than 400,000 festival-goers from over 200 different nationalities attend every year.
Unfortunately, tickets aren't exactly easy to come by: a full weekend pass can set you back €375 and the festival typically sells out within 45 minutes, so count yourself lucky if you manage to get a ticket. If you are one of the lucky ones, your Tomorrowland adventure begins when you receive a personal treasure chest containing your entrance wristband and festival information pack.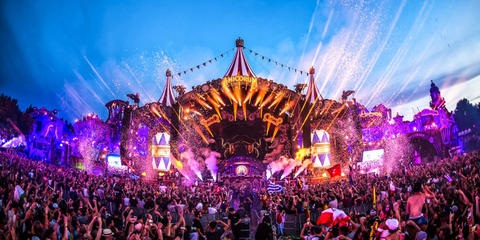 Pukkelpop
Another big Belgian summer music festival is Pukkelpop, which translates to 'Pimplepop' in English (bit of a strange name for a music festival). Although not as big as Tomorrowland, it still attracts around 250,000 music lovers every year thanks to its great range of music genres, including rock, pop, punk and heavy metal. In previous years, artists from Kendrick Lamar and Rihanna to Nirvana have performed on one of Pukkelpop's ten stages.
It usually takes place in August in Kiewit, a town in northeast Belgium. Many keen festival-goers think Pukkelpop is quite cheap considering the great variety of music and the artists it attracts, but a ticket still costs around €200. Despite this price, many attendees return year after year. For them, going to Pukkelpop feels like coming home.
Rock Werchter
Rock Werchter, or as most Belgians call it, Werchter, is one of the most popular summer festivals in Europe. Founded in 1977, it has transformed from a small one-day event into a four-day festival with three big stages. With its wide range of artists (The Red Hot Chili Peppers, Pearl Jam, Florence + The Machine….) it's a festival that teenagers, students, families and retirees enjoy. In 2017, it won the ILMC Arthur Award for 'Best Festival' for the sixth time so it's definitely worth checking out.
DOUR Festival
Every July, a big grass-land in the French part of Belgium is turned into a five-day festival offering music genres from reggae and house to drum and bass. Dour is known as quite an 'alternative' festival, attracting a very diverse crowd from France and Belgium. When it started in 1989, only five bands played at the one-day event but now, more than 300 artists play across the 7 stages.
Sfinks Mixed
Sfinks festival is a free festival that's really popular with families, particularly those with little kids. This 4-day festival usually takes place over the last weekend of July and is known for its great variety of unique and alternative music. Besides the great music, the festival ground is also filled with parades, travelling acrobats, multicultural markets and even bouncy castles for all the kids (and adults!) to enjoy.
Lokerse Feesten
Spread over 10 days, this festival is the longest festival in Belgium. It started 45 years ago as an annual fair and now welcomes both local artists and international stars; 50 cent, Kygo and Martin Solveig have all taken to Lokerse Feesten's stage. Concerts are usually held in the evening so it's a great way to relax and disconnect after a long day's work.
These are just a few examples of the great festivals that take place during the summer in Belgium. Make sure you don't miss out!